At Friday March 2nd, Clash Royale will turn 2 Years Young! And, for celebrating this, Supercell has introduced a special challenge, called the "Anniversary Challenge".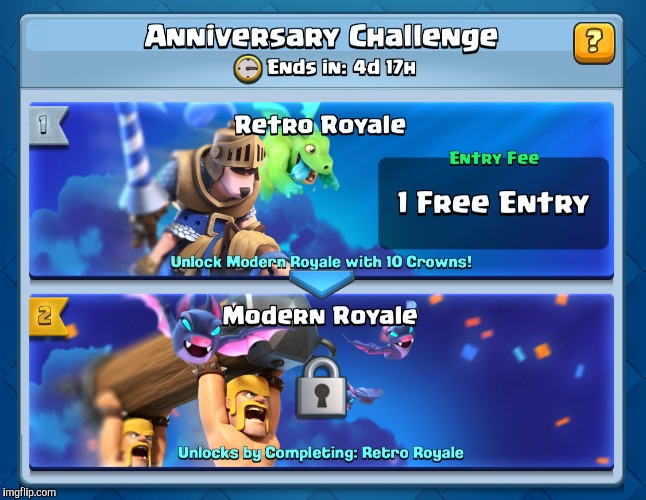 Starts at : 2nd March, Friday, 2018
Ends at : 5th March, Monday, 2018
This special challenge consists of two stages like the Lunar New Year Challenge. They are :
---
Retro Royale
Players get one free entry to this stage, and since it is casual challenge (dosen't eliminate you after losing thrice), it dosen't have a retry fee. This stage takes players back to the good old days when Clash Royale was first soft launched. During the challenge players can only use cards released with game's soft launch. It takes 10 crowns for a player to complete the stage.
One Time Rewards
At 4 Wins : 250 Coins
At 7 Wins : 500 Coins
At 10 Wins : 1000 Coins
---
Modern Royale
Players who successfully complete the Retro Royale 10 crown challenge gets to proceed to the next stage, Modern Royale. In this stage, only cards released after the January 2016 soft launch can be used.
Players get a free entry for the first time, and retry costs 10 gems each. This stage is not casual like the Retro Royale Challenge, which means 3 loses and you are out, and it takes 6 wins for completing.
One Time Rewards
At 2 Wins : 50× Skeleton Barrel
At 4 Wins : 20× Zappies
At 5 Wins : 3× Hunter
At 6 Wins : Epic Chest

Guaranteed Prize : 130 Gold, 2 Cards.
Top Prize : 600 Gold, 25 Cards.
Retry Fee : 10 Gems
---
Discuss about the Challenge in comments below, and please
do not create another thread.
Happy Clashiversary and Good Luck for the Challenge!!!
Tagged: